We have had to put to sleep INTNORDUCH Dundee Jewel Case 'Ollie', born in January 2000.
New page on this site – Photo Album – Check it out (main menu)!
We have today launched a new design on our website. To the site we will add a Photo Album shortly.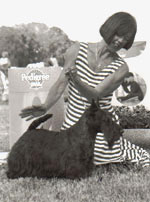 On the 14th. of October we had to say farewell to Ch Dundee Cool Trooper "Forrest": The most significant figure in our kennel is now silent. Forrest has "talked" to us, and put great effort into "improving" our garden throughout his whole life, and leaves a great emptiness behind him. In 1998 Forrest became Scottie […]
Dundee Cool Trooper "Forrest" **** 13 years old and STILL GOING STRONG